Fighting the fakes – are you aware of the dangers posed by counterfeit parts?
In an industry that prides itself on quality, outstanding service, transparency and trust, the rise in counterfeit parts globally poses a real risk to the entire independent supply chain, from manufacturers to distributors and critically, from garages to customers as well. In this article, DENSO looks at the challenges posed by counterfeit spark plugs and advises the aftermarket on how to counter the counterfeits.
Why are counterfeit parts an issue?
As internet shopping and e-commerce have become a main feature of people's lives, motorists and technicians alike now have access to a global marketplace for vehicle components. At times, the lure of purchasing a part online for less than you'd pay to a distributor, or fitting customer-supplied parts, may seem like good business, but it could be putting the health and safety of your customers at risk. Too often, counterfeit items from virtually every product category are found throughout legitimate marketplaces, with some technicians unwittingly exposing customers to sub-standard products.
Often it can be difficult to identify a counterfeit part, particularly if ordering online with just a small image to go by. Counterfeiters are becoming highly skilled in making non-genuine parts and their packaging look identical to genuine ones. While some parts may look the same as genuine parts, they are unlikely to perform to the same standard and in many cases, counterfeits will have been produced using substandard materials which will not have been rigorously tested for safety. This is a particular issue with counterfeit spark plugs which can cause a major drop in engine power under heavy acceleration or load. If these plugs overheat, they will melt and cause considerable engine damage, costing a driver thousands of pounds and potentially costing a technician their business.
How do I avoid counterfeit parts?
To demonstrate the differences between genuine products and counterfeits, the following comparisons can be made to identify genuine DENSO spark plugs…
Appearance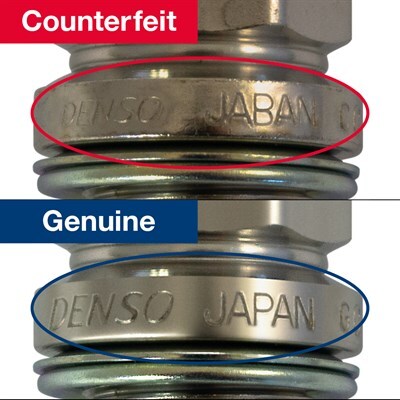 Though it may sound obvious, one of the biggest signs you've purchased a counterfeit is a difference in how the product may look. Simple things, such as the branding embossing containing spelling mistakes, are a sign of a non-genuine part. A genuine DENSO spark plug should have a uniform insulator shape, be white in colour, and the width of the ground electrode should be consistent. Look out for poor quality welding and avoid spark plugs with ground electrode chips made from cheap materials. A quick scratch test can reveal if cheap materials have been used, indicating a non-genuine or counterfeit part.
Packaging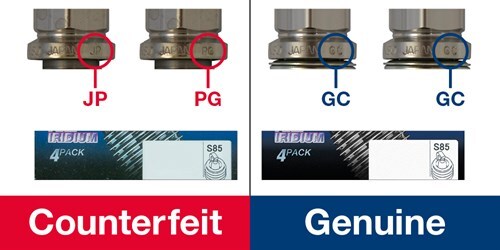 Just as you should check the part itself for discrepancies, the packaging your part arrives in may also contain some obvious signs it is not a genuine DENSO part. All DENSO Spark Plugs are manufactured in Japan, Indonesia, China and USA. If a part claims to be a DENSO component but has been manufactured outside of these areas, then it is not genuine. Counterfeit spark plugs may also have subtle differences in the logo placement. Poor print quality, differences in the label cutting and folding also indicate a counterfeit.
Another item to check is the barcode and production code. DENSO products have complete traceability throughout the supply chain, so spark plugs from a new, sealed, four or ten pack should have the same production code. Non-matching production codes within a four or ten pack indicate non-genuine parts. Always check, and if in doubt, call your local DENSO representative who can advise.
Technical specification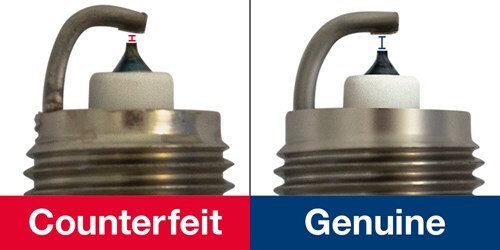 All DENSO parts go through a stringent manufacturing process to ensure the highest quality every time. Checking spark plugs against official specifications in the DENSO catalogue is a simple and effective method of identifying a counterfeit. There are several checks you can carry out:
Use a feeler gauge or coin-style gapping tool to measure the electrode gap distance. The correct distance will be stated in DENSO specifications.
Use a caliper tool to measure the diameter of the ceramic part. If this is not in line with official DENSO specifications, your part is non-genuine.
The ground electrode angle can also be assessed. If this deviates from the correct angle, spark functionality will be negatively impacted.
Measuring the gap between the gasket and the spark plug body and checking the length of the spark plug thread and overall plug will also identify a counterfeit if not in line with DENSO specifications.
The issue of counterfeit parts is one that is not going away, with several industry bodies and organisations working to highlight the issue and protect manufacturers, workshops and motorists. The best way to avoid unwittingly purchasing and fitting a counterfeit part is to only buy through official DENSO distributors. A cheaper part sourced online may seem a better option, but the consequences of fitting a counterfeit part could very serious.