ECO VISION 2025 updated Environmental Policy announced
DENSO Corporation has announced its latest environmental policy and action plan, in line with the brand philosophy of contributing to a better world. DENSO's ECO VISION policy was first launched in 1997 and has helped to achieve substantial reductions in CO2 emissions.
With 2025 in its sight, DENSO's new environmental policy covers three target groups (Target 3): Energy, Clean and Green which cover every aspect of an environmentally friendly industry, from the energy and materials used to employee lifestyle choices and office greenery.
The new targets follow strong 2015 reductions in CO2 emissions of 66% based on its Basic unit (where Basic unit = CO2 emissions divided by sales), compared with fiscal 1991, and with a reduction of 19% on a global basis compared with fiscal 2011.
The new policy sets out a plan to achieve these targets in the areas of products, factories, employees, and management, by 2025.
Target 3
Energy 1/2

Contribute to permanent maintenance of the global environment by technologies that can solve the problems of global warming, energy and resources.

DENSO will attempt to halve automotive CO2 emissions by developing new technologies and products to improve fuel efficiency and use various fuels in vehicles.

Moreover, at its factories, DENSO will implement Energy Just-in-Time (JIT) activities and logistic control to respond to fluctuations in production, thereby cutting its energy consumption and reducing CO2 emissions by half.

Clean x 2

Comply with laws and promote continuous improvement in order to provide reassurance to all stakeholders and remain a corporation that grows with the society.

To gain the confidence of all stakeholders, DENSO will continuously strive to improve ways to halve the impact of environmentally hazardous substances that it uses and its industrial emissions and waste. DENSO will also contribute to improving air quality in the regions where it operates by developing technology to reduce vehicle exhaust emissions, as well as decrease waste and water usage at its factories and throughout its logistics chain. Moreover, DENSO will provide its employees with a wider range of environmental learning programs to encourage them to become more aware of the global environment and take action to help create a sustainable society.

Green x 2

Realize a society which is sharing nature's wisdom and benefits in order to bring a rich natural environment to the next generation through cooperative activity aiming at symbiosis with nature.

To pass on a rich natural environment to future generations, DENSO will promote green environmental businesses, such as biofuel research and agricultural support, and enhance factory greening to conduct business in harmony with nature.

In each of its operating regions and companies, DENSO will implement social action programs and hold events under the theme of the environment to encourage its employees to raise their environmental awareness and engage in environmental activities. Furthermore, DENSO will help build environmentally friendly communities.
Target 3 consists of three targets and Action 10 identifies 10 specific actions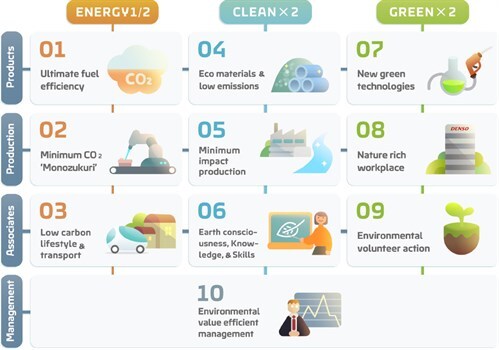 "The introduction of the Target 3 strategy will ensure that DENSO continues to lead by example with the development of new technology that is sensitive to the pressures on our planet and its resources."